ERW means High frequency electric resistance welded。 ERW steel pipe "is a straight seam resistance welding pipe, abbreviated as ERW in English. It is used to transport vapor-liquid objects such as oil, natural gas, and water, and can meet various requirements of high and low pressure. Circular ERW steel pipes occupy a light and heavy position in the field of transportation pipes in the world, while square and rectangular ERW steel pipes play a crucial role in the field of structural pipes in the world. The ERW steel pipes produced by Yuantai can be used as structural steel pipes and also as conveying pipes.
ERW steel pipe, LSAW steel pipe, SSAW steel pipe, collectively known as the three major welded pipes

How is an ERW steel pipe produced?
Straight seam high-frequency welded pipe (ERW) is a hot rolled coil formed by a forming machine, which utilizes the skin effect and proximity effect of high-frequency current to heat and melt the edges of the pipe blank. Under the action of extrusion rollers, pressure welding is carried out to achieve production. The specific steps for producing an ERW steel pipe are:
1. Uncoiling
2. Leveling
3. Shear butt welding
4. Looper storage
5. Plate probe
6. Trimming
7. Forming
8. High frequency welding
9. Remove internal and external burrs
10. Online ultrasonic testing
11. Qualified ERW steel pipe spray marking
12. Packaging
13. Warehousing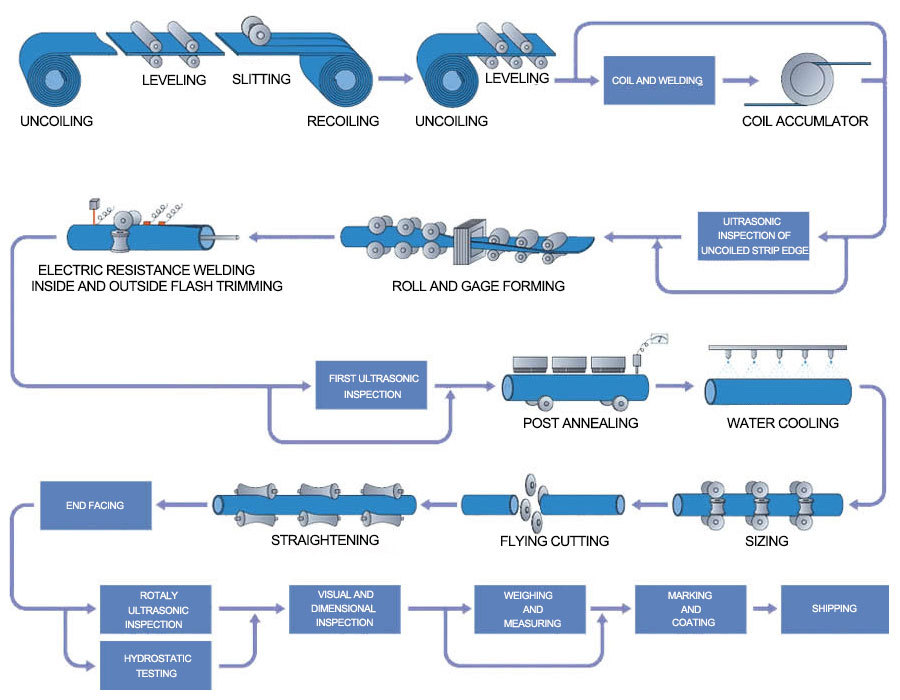 How many surface treatment methods are there for ERW steel pipes?
In general, ERW steel pipe buyers require us to undergo surface treatment before shipment.
The surface treatment methods we can adopt for ERW steel pipes include the following:
1. Surface not treated
2. Applying oil
3. Painting
4. Hot dip galvanizing
5. Corrosion prevention
6. Insulation
The surface treatment method used for each ERW steel pipe is determined by the usage scenario of the ERW steel pipe. If you are unsure which surface treatment method should be used for your ERW steel pipe, please contact our customer manager promptly: sales@ytdrgg.com

ERW steel pipe specification
Here, we have only listed some standard and conventional ERW steel pipe models. If the size you need is not included in this specification table, Yuantai can also customize mass production. You can send your desired size, wall thickness, length, etc. to our customer manager, and we will provide you with a quotation within 2 hours.
外径(O.D.)

壁厚(Wall Thickness)

重量(Weight)

英寸(inch)

毫米.(mm)

单位(SCH)

毫米(mm).

英寸.(inch)

公斤/米.(KG/M)

磅/英尺.( lb/ft)

1/8"

10.3

10S

1.24

0.049

0.28

0.19

1/8"

10.3

STD-40

1.73

0.068

0.37

0.25

1/8"

10.3

XS-80

2.41

0.095

0.48

0.32

1/4"

13.7

10S

1.65

0.065

0.50

0.34

1/4"

13.7

STD-40

2.24

0.088

0.64

0.43

1/4"

13.7

XS-80

3.02

0.119

0.81

0.55

3/8"

17.1

10S

1.65

0.065

0.64

0.43

3/8"

17.1

STD-40

2.31

0.091

0.85

0.57

3/8"

17.1

XS-80

3.20

0.126

1.11

0.75

1/2"

21.3

5S

1.05

0.042

0.53

0.36

1/2"

21.3

10S

2.11

0.083

1.01

0.68

1/2"

21.3

STD-40

2.77

0.109

1.28

0.86

1/2"

21.3

XS-80

3.73

0.147

1.63

1.10

1/2"

21.3

160

4.78

0.188

1.97

1.33

1/2"

21.3

XXS

7.47

0.294

2.57

1.73

3/4"

26.7

5S

1.65

0.065

1.03

0.69

3/4"

26.7

10S

2.11

0.083

1.29

0.87

3/4"

26.7

STD-40

2.87

0.113

1.70

1.14

3/4"

26.7

XS-80

3.91

0.154

2.22

1.49

3/4"

26.7

160

5.56

0.219

2.93

1.97

3/4"

26.7

XXS

7.82

0.308

3.68

2.48

1"

33.4

5S

1.65

0.065

1.31

0.88

1"

33.4

10S

2.77

0.109

2.12

1.42

1"

33.4

STD-40

3.38

0.133

2.53

1.70

1"

33.4

XS-80

4.55

0.179

3.27

2.18

1"

33.4

160

6.35

0.250

4.28

2.88

1"

33.4

XXS

9.09

0.358

5.51

3.71

1 1/4"

42.2

5S

1.65

0.065

1.67

1.12

1 1/4"

42.2

10S

2.77

0.109

2.72

1.83

1 1/4"

42.2

STD-40

3.56

0.140

3.43

2.31

1 1/4"

42.2

XS-80

4.85

0.191

4.51

3.03

1 1/4"

42.2

160

6.35

0.250

5.67

3.81

1 1/4"

42.2

XXS

9.70

0.382

7.85

5.28

1 1/2"

48.3

5S

1.65

0.065

1.92

1.29

1 1/2"

48.3

10S

2.77

0.109

3.14

2.11

1 1/2"

48.3

STD-40

3.68

0.145

4.09

2.75

1 1/2"

48.3

XS-80

5.08

0.200

5.47

3.68

1 1/2"

48.3

160

7.14

0.281

7.32

4.92

1 1/2"

48.3

XXS

10.15

0.400

9.65

6.49

2"

60.3

5S

1.65

0.065

2.41

1.62

2"

60.3

2.11

0.083

3.06

2.06

2"

60.3

10S

2.77

0.109

3.97

2.67

2"

60.3

3.18

0.125

4.52

3.04

2"

60.3

STD-40

3.91

0.154

5.49

3.69

2"

60.3

XS-80

5.54

0.218

7.56

5.08

2"

60.3

160

8.74

0.344

11.23

7.55

2"

60.3

XXS

11.07

0.436

13.58

9.13

2 1/2"

73.0

5S

2.11

0.083

3.73

2.51

2 1/2"

73.0

10S

3.05

0.120

5.32

3.57

2 1/2"

73.0

30

4.78

0.188

8.12

5.46

2 1/2"

73.0

STD-40

5.16

0.203

8.72

5.86

2 1/2"

73.0

XS-80

7.01

0.276

11.52

7.74

2 1/2"

73.0

160

9.53

0.375

15.08

10.14

2 1/2"

73.0

XXS

14.02

0.552

20.60

13.84

3"

88.9

5S

2.11

0.083

4.56

3.07

3"

88.9

2.77

0.109

5.95

4.00

3"

88.9

10S

3.05

0.120

6.52

4.38

3"

88.9

3.18

0.125

6.79

4.56

3"

88.9

3.58

0.141

7.61

5.12

3"

88.9

3.96

0.156

8.38

5.63

3"

88.9

STD-40

5.49

0.216

11.41

7.67

3"

88.9

XS-80

7.62

0.300

15.43

10.37

3"

88.9

160

11.13

0.438

21.56

14.49

3"

88.9

XXS

15.24

0.600

27.96

18.79

3 1/2"

101.6

5S

2.11

0.083

5.23

3.52

3 1/2"

101.6

10S

3.05

0.120

7.49

5.03

3 1/2"

101.6

30

4.78

0.188

11.53

7.75

3 1/2"

101.6

STD-40

5.74

0.226

13.71

9.21

3 1/2"

101.6

XS-80

8.08

0.318

18.83

12.65

4"

114.3

5S

2.11

0.083

5.90

3.97

4"

114.3

10S

3.05

0.120

8.46

5.68

4"

114.3

3.18

0.125

8.81

5.92

4"

114.3

3.96

0.156

10.89

7.32

4"

114.3

4.37

0.172

11.97

8.05

4"

114.3

4.78

0.188

13.04

8.76

4"

114.3

5.16

0.203

14.03

9.43

4"

114.3

5.56

0.219

15.06

10.62

4"

114.3

STD-40

6.02

0.237

16.24

10.91

4"

114.3

6.35

0.250

17.08

11.48

4"

114.3

7.14

0.281

19.06

12.81

4"

114.3

7.92

0.312

20.99

14.11

4"

114.3

XS-80

8.56

0.337

22.55

15.15

4"

114.3

120

11.13

0.438

28.61

19.23

4"

114.3

160

13.49

0.531

33.88

22.77

4"

114.3

XXS

17.12

0.674

41.45

27.85

5"

141.3

3.96

0.156

13.55

9.11

5"

141.3

4.78

0.188

16.26

10.93

5"

141.3

5.56

0.219

18.80

12.63

5"

141.3

STD-40

6.55

0.258

21.99

14.78

5"

141.3

7.14

0.281

23.86

16.04

5"

141.3

7.92

0.312

26.32

17.69

5"

141.3

XS-80

9.53

0.375

31.28

21.02

5"

141.3

120

12.70

0.500

40.69

27.34

5"

141.3

160

15.88

0.625

49.62

33.34

5"

141.3

XXS

19.05

0.750

58.01

38.98

6"

168.3

4.37

0.172

17.84

11.99

6"

168.3

4.78

0.188

19.47

13.09

6"

168.3

5.16

0.203

20.97

14.09

6"

168.3

5.56

0.219

22.54

15.15

6"

168.3

6.35

0.250

25.62

17.22

6"

168.3

STD-40

7.11

0.280

28.55

19.19

6"

168.3

7.92

0.312

31.64

21.26

6"

168.3

8.74

0.344

34.74

23.35

6"

168.3

9.53

0.375

37.69

25.33

6"

168.3

XS-80

10.97

0.432

42.99

28.89

6"

168.3

12.70

0.500

49.23

33.08

6"

168.3

120

14.27

0.562

54.75

36.79

6"

168.3

15.88

0.625

60.30

40.52

6"

168.3

160

18.26

0.719

68.25

45.86

6"

168.3

19.05

0.750

70.85

47.61

6"

168.3

XXS

21.95

0.864

80.02

53.77

6"

168.3

22.23

0.875

80.87

54.34

8"

219.1

4.78

0.188

25.52

17.15

8"

219.1

5.16

0.203

27.50

18.48

8"

219.1

5.56

0.219

29.58

19.88

8"

219.1

20

6.35

0.250

33.65

22.61

8"

219.1

30

7.04

0.277

37.19

24.99

8"

219.1

7.92

0.312

41.66

28.00

8"

219.1

STD-40

8.18

0.322

42.98

28.88

8"

219.1

8.74

0.344

45.80

30.78

8"

219.1

9.53

0.375

49.75

33.43

8"

219.1

60

10.31

0.406

53.62

36.03

8"

219.1

11.13

0.438

57.66

38.75

8"

219.1

XS-80

12.70

0.500

65.30

43.88

8"

219.1

14.27

0.562

72.81

48.93

8"

219.1

100

15.09

0.594

76.69

51.53

8"

219.1

15.88

0.625

80.31

54.02

8"

219.1

120

18.26

0.719

91.36

61.39

8"

219.1

19.05

0.750

94.93

63.79

8"

219.1

140

20.62

0.812

101.95

68.51

8"

219.1

XXS

22.23

0.875

108.96

73.22

8"

219.1

160

23.01

0.906

112.40

75.59

8"

219.1

25.40

1.000

122.56

82.36

10"

273.0

4.78

0.188

31.94

21.46

10"

273.0

5.16

0.203

34.43

23.14

10"

273.0

5.56

0.219

37.04

24.89

10"

273.0

20

6.35

0.250

42.18

28.34

10"

273.0

7.09

0.279

46.97

31.56

10"

273.0

30

7.80

0.307

51.53

34.63

10"

273.0

8.74

0.344

57.34

38.66

10"

273.0

STD-40

9.27

0.365

60.90

40.92

10"

273.0

11.13

0.438

72.61

48.79

10"

273.0

XS-60

12.70

0.500

82.35

55.34

10"

273.0

14.27

0.562

91.92

61.80

10"

273.0

80

15.09

0.594

96.95

65.15

10"

273.0

15.88

0.625

101.71

68.35

10"

273.0

100

18.26

0.719

115.87

77.86

10"

273.0

20.62

0.812

129.64

87.11

10"

273.0

120

21.44

0.844

134.35

90.28

10"

273.0

22.23

0.875

138.87

93.32

10"

273.0

23.83

0.938

147.91

99.39

10"

273.0

XXS-140

25.40

1.000

156.66

105.22

10"

273.0

160

28.58

1.125

174.01

116.93

10"

273.0

31.75

1.250

190.81

128.22

12"

323.8

20

6.35

0.250

50.22

33.75

12"

323.8

7.14

0.281

56.32

37.85

12"

323.8

7.92

0.312

62.32

41.88

12"

323.8

30

8.38

0.330

65.85

44.23

12"

323.8

8.74

0.344

68.60

46.10

12"

323.8

STD

9.53

0.375

74.61

50.13

12"

323.8

40

10.31

0.406

80.51

54.10

12"

323.8

11.13

0.438

86.69

58.25

12"

323.8

XS

12.70

0.500

98.42

66.14

12"

323.8

60

14.27

0.562

110.03

73.94

12"

323.8

15.88

0.625

121.81

81.85

12"

323.8

80

17.48

0.688

133.38

89.63

12"

323.8

19.05

0.750

14.62

97.18

12"

323.8

20.62

0.812

155.73

104.65

12"

323.8

100

21.44

0.844

161.48

108.51

12"

323.8

23.83

0.938

178.07

119.65

12"

323.8

XXS-120

25.40

1.000

188.80

126.87

12"

323.8

26.97

1.062

199.42

134.00

12"

323.8

140

28.58

1.125

210.18

141.23

12"

323.8

31.75

1.250

230.98

155.21

12"

323.8

160

33.32

1.312

241.10

162.01

14"

355.6

10

6.35

0.250

55.25

37.13

14"

355.6

20

7.92

0.312

68.60

46.1

14"

355.6

8.74

0.344

75.52

50.75

14"

355.6

STD-30

9.53

0.375

82.16

55.21

14"

355.6

10.31

0.406

88.68

59.59

14"

355.6

40

11.13

0.438

95.51

64.18

14"

355.6

XS

12.70

0.500

108.48

72.90

14"

355.6

14.27

0.562

121.33

81.53

14"

355.6

60

15.09

0.594

128.00

86.01

14"

355.6

80

19.05

0.750

159.71

107.32

14"

355.6

100

23.83

0.938

196.94

132.34

14"

355.6

25.40

1.000

208.92

140.39

14"

355.6

26.97

1.062

220.78

148.36

14"

355.6

120

27.79

1.094

226.93

152.49

14"

355.6

140

31.75

1.250

256.13

172.11

14"

355.6

160

35.71

1.406

284.56

191.21

16"

406.4

10

6.35

0.250

63.28

42.52

16"

406.4

7.14

0.281

71.01

47.72

16"

406.4

20

7.92

0.312

78.62

52.83

16"

406.4

8.74

0.344

86.58

58.18

16"

406.4

STD-30

9.53

0.357

94.21

63.31

16"

406.4

10.31

0.406

101.72

68.36

16"

406.4

11.13

0.438

109.59

73.64

16"

406.4

XS-40

12.70

0.500

124.55

83.69

16"

406.4

14.27

0.562

139.39

93.67

16"

406.4

15.88

0.625

154.48

103.80

16"

406.4

60

16.66

0.656

161.74

108.69

16"

406.4

17.48

0.688

169.35

113.80

16"

406.4

19.05

0.750

183.81

123.52

16"

406.4

20.62

0.812

198.15

133.15

16"

406.4

80

21.44

0.844

205.60

138.15

16"

406.4

25.40

1.000

241.06

161.98

16"

406.4

100

26.19

1.031

248.05

166.68

16"

406.4

120

30.96

1.219

289.54

194.56

16"

406.4

31.75

1.250

296.31

199.11

16"

406.4

140

36.53

1.438

336.57

226.16

16"

406.4

160

40.49

1.594

369.06

247.99

18"

457.2

20

7.92

0.312

88.60

59.54

18"

457.2

8.74

0.344

97.59

65.58

18"

457.2

STD

9.53

0.375

106.23

71.38

18"

457.2

10.31

0.406

114.72

77.09

18"

457.2

30

11.13

0.438

123.62

83.07

18"

457.2

XS

12.70

0.500

140.56

94.45

18"

457.2

40

14.27

0.562

157.38

105.75

18"

457.2

15.88

0.625

174.50

117.25

18"

457.2

17.48

0.688

191.38

128.60

18"

457.2

60

19.05

0.750

207.82

139.65

18"

457.2

80

23.83

0.938

257.13

172.78

18"

457.2

25.40

1.000

273.08

183.50

18"

457.2

26.97

1.062

288.91

194.14

18"

457.2

28.58

1.125

305.01

204.96

18"

457.2

100

29.36

1.156

312.76

210.16

18"

457.2

30.18

1.188

320.88

215.62

18"

457.2

31.75

1.250

336.33

226.00

18"

457.2

120

34.93

1.375

367.25

246.78

18"

457.2

140

39.67

1.562

412.40

277.12

18"

457.2

160

45.24

1.781

464.03

311.81

20"

508

8.74

0.344

108.70

73.04

20"

508

STD-20

9.53

0.375

118.33

79.51

20"

508

10.31

0.406

127.82

85.89

20"

508

11.13

0.438

137.76

92.57

20"

508

XS-30

12.70

0.500

156.70

105.3

20"

508

14.27

0.562

175.51

117.94

20"

508

40

15.09

0.594

185.28

124.50

20"

508

15.88

0.625

194.67

130.81

20"

508

17.48

0.688

213.59

143.53

20"

508

19.05

0.750

232.03

155.92

20"

508

60

20.62

0.812

250.34

168.22

20"

508

25.40

1.000

305.35

205.18

20"

508

80

26.19

1.031

314.33

211.22

20"

508

30.18

1.188

359.22

241.38

20"

508

31.75

1.250

376.66

253.10

20"

508

100

32.54

1.281

385.40

258.97

20"

508

120

38.10

1.500

445.97

299.67

20"

508

140

44.45

1.750

513.27

344.90

20"

508

160

50.01

1.969

570.54

383.38

22"

559

8.74

0.344

119.80

80.5

22"

559

STD-20

9.53

0.375